K r i y a Y o g a
A s T a u g h t B y P a r a m h a n s a Y o g a n a n d a
Kriya Yoga is an ancient technique that was hidden in secrecy for many centuries. It was revived in 1861, when the great yogi Mahavatar Babaji taught the technique to his disciple Lahiri Mahasaya during their meeting in the Himalayas.
"Kriya Yoga is an instrument through which human evolution can be quickened. The ancient yogis discovered that the secret of cosmic consciousness is intimately linked with breath mastery. This is India's unique and deathless contribution to the world's treasury of knowledge."
—Swami Sri Yukteswar, quoted in Autobiography of a Yogi
U p c o m i n g E v e n t s
Annual Spiritual Retreat with Nayaswamis Jyotish and Devi
Date: 28th and 29th Oct 2017
Venue: School of Ancient Wisdom Devanahalli
Topic: Be The Change! How Meditation Can Transform The World
Bring your Family, Children & Friends !
Click here for more details and registration
24 September, 2017

Sunday Satsang

24 September, 2017 @ 10:00 am - 11:30 am


30 September, 2017

Level 2: The Art and Science of Raja Yoga

30 September, 2017 @ 10:30 am - 1:00 pm

"I pledge to meditate daily, to open my heart and to radiate peace and harmony to all the world."
Pledge your meditation hours. Together, we will radiate one million hours of peace and harmony into the world.
W e e k l y N e w s l e t t e r
Know about what's happening at Ananda Sangha Bangalore, schedules of classes and read inspiring articles etc
O u r S p i r i t u a l L i n e a g e
Lahiri Mahasaya
Babaji
Jesus
Sri Yukteshwar
Paramhansa Yogananda (Our Guru)
A u t o b i o g r a p h y O f A Y o g i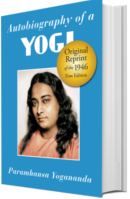 The Original Unaltered Edition