Remembering Swami Kriyananda on his Mahasamadhi( April 21)
"Mother told me" , that throughout her pregnancy she was filled inwardly with joy. 'Lord,' she prayed repeatedly, 'this first child I give to Thee.'
"Her blessing may not have borne fruit as early as she had hoped. But bear fruit it did, gradually — one might almost say, relentlessly — over the years.
"For mine is the story of one who did his best to live without God, but who — thank God — failed in the attempt."
—Swami Kriyananda, The New Path
---
Swami Kriyananda, (James Donald Walters) was born on May 19, 1926 in Teleajen, Romania, to American parents. He was the oldest of three boys and his father worked in the oil industry. Even as a child, Kriyananda demonstrated calmness and strength of mind. He was sent to private schools in Switzerland, England, and America.
---
As a college student, Swami Kriyananda dedicated himself to the search for Truth and made several important discoveries. One was that, if he firmly believed in something, he could often make it come true, as long as it wasn't too far beyond present reality. In 1948, Kriyananda came across the book Autobiography of a Yogi by Paramhansa Yogananda in a bookstore. He quickly read it through, describing it as "the best book I have ever read." Soon after reading the book, Kriyananda hopped on a train and traveled all the way to California to meet this great master from India.
---
"I want to be your disciple." These were the first words Swami Kriyananda spoke to Paramhansa Yogananda ."Your work," Yogananda told Kriyananda, "is writing, editing, and lecturing." In 1950 he asked Kriyananda to take charge of the monks, most of whom were many years older! Yogananda also invited him to his seclusion retreat at 29 Palms. There Kriyananda worked closely with Yogananda, and had the opportunity to record much of what the master said.
Many times the guru told Kriyananda, "You have a great work to do." This, Kriyananda knew, was not praise, but a serious commission to help bring Yogananda's teachings into the world.
---
---
Yogananda envisioned communities where a person could live, work, and go to church all in one place, living for God and serving Him with fellow devotees. More than any other disciple, Swami Kriyananda tried to fulfill his guru's vision of spiritual communities. In 1968 he founded the first community, called Ananda Village. Unlike secluded spiritual communities comprised solely of monks and nuns, Ananda Village included those with spouses and children, as well as formal renunciates.
Over the years, Swami Kriyananda founded several more communities , as well as teaching centers and meditation groups all across the world. He also wrote many books and pieces of music and lectured worldwide. In his later years after passing on the duty of running the communities to Nayaswamis Jyotish and Devi, Swami Kriyananda traveled extensively between Italy, India, and America sharing Yogananda's teachings and initiating thousands into Kriya Yoga, Yogananda's main technique for attaining Self-Realization.
---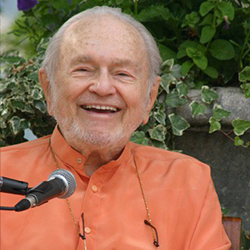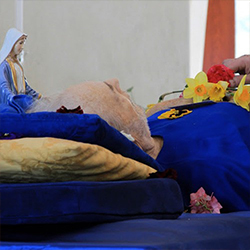 Swami Kriyananda passed away on April 21, 2013 at one of Ananda's communities near Assisi, Italy, surrounded by his spiritual family. He will be missed, but his legacy will live on. In his will, he named Nayaswami Jyotish as his spiritual successor. Nayaswami Jyotish and his wife Nayaswami Devi currently serve as Ananda's spiritual directors and have carried on Swami Kriyananda's work of traveling, lecturing, and helping to guide Ananda's communities worldwide. In honor of Swami Kriyananda's life, a small meditation temple has been built at the Crystal Hermitage at Ananda Village, called the Moksha Mandir. It is open for anyone who wishes to pay their respects to this beloved teacher.